Foshan is the third-largest city in Guangdong Province. It is one of the four famous towns in China. It is a famous martial arts town, ceramic capital, food village and the birthplace of Chinese opera. It is also the birthplace of modern celebrities such as Kang Youwei, Ye Wen and Huang Feihong. In Foshan, Lingnan culture has a strong atmosphere, and there are also endless scenic views of Lingnan such as Zu Temple in Foshan, Nanhai Guanyin Temple, Xiqiao Mountain, Foshan Ancient Nanfeng Klin, Qinghui Garden...
In a burst of salute and applause, GANOHERB Foshan Store officially opened.
At the beginning of this summer, GANOHERB organic Ganoderma settles in Foshan.
Ganoderma peacock came to congratulate GANOHERB.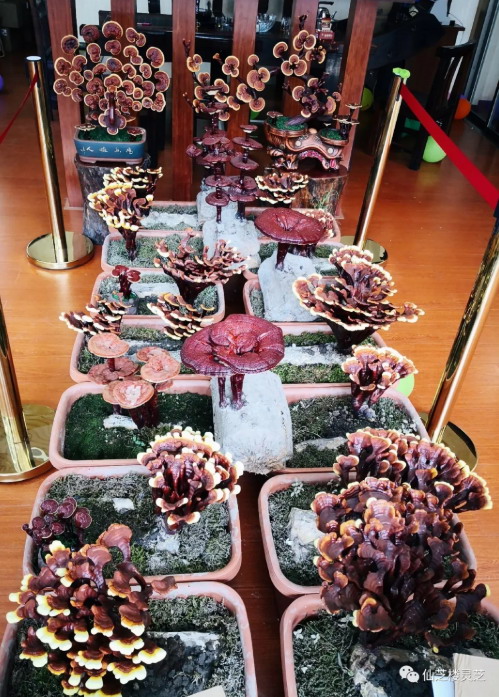 The Lingzhi bonsai show begins.
Spore powder is a germ cell that is ejected when the Ganoderma fruiting body matures. Spore has all the genetic materials of Ganoderma. In the store, a fresh Ganoderma lucidum from Xianzhilou is spraying spore powder. GANOHERB only uses the fresh and full spore powder as the raw material. The quality of the Ganoderma lucidum is visible and touchable. The powdered form in the figure is the sprayed fresh spore powder.
On the same day, the opening ceremony banquet was also held concurrently. Mr. Lin Jianwu, President of Guangdong Pucheng Chamber of Commerce, was invited as a special guest to draw lucky prizes for the site partners.
Lucky Winners' s Group Photo
Reishi Mushroom is no longer an unreachable fairy grass, but a healthy partner who can come to you in many forms. Ganoderma lucidum has gradually entered the lives of the people. Ganoderma toothpaste, Ganoderma coffee, Ganoderma biscuits, Ganoderma chocolate, Ganoderma tea, Ganoderma diet, Ganoderma health products, Ganoderma bonsai... There are many wonderful things in the world of Ganoderma waiting for your discovery and exploration.